The meme stock's price plummeted more than 40% on Friday as investors put out hard stops on the share's could-have-been rise to infinity and beyond.
Bed Bath & Beyond (NASDAQ: BBBY), which saw its share soar 365% in the past month, has erased most of those gains in just two days. The stock chart of the home goods retailer took a 43% nosedive at market open last Friday, as investors and meme stock traders fled following the news that GameStop chairman Ryan Cohen had indeed dropped all his holdings in Bed, Bath & Beyond.  
What happened to Bed Bath & Beyond stock?
The billionaire investor disclosed on Thursday he had sold his 9.8% stake in the struggling home goods retailer, a short five months after amassing it and pushing for changes. The company accommodated Cohen during his short tenure by ousting its chief executive, changing some board directors and agreeing to explore shedding its baby products unit. Cohen did not offer a reason for the abrupt u-turn.  
The share price dropped 20% on Thursday after filings revealed Cohen planned to sell his shares, and tumbled another 40% on Friday after it had been confirmed that the billionaire investor indeed dumped his entire portfolio of BBBY shares. The news was a solid blow to the loyal flock of individual investors who amassed behind Cohen last year, betting on his turnaround of video game retailer GameStop Corp (NYSE: GME). Investors flooded social media platforms such as Reddit on Friday with criticism of Ryan Cohen's sale of his stake in Bed Bath & Beyond Inc, blaming him for helping fuel a meme stock rally only to then walk away with close to $60 million profit. On the other hand, Bed Bath call option owners on Friday lost $314 million in the value of their options, according to Matt Amberson, principal at options analytics firm ORATS.  
The investor reaction raises questions over whether Cohen will continue to exert strong influence over meme stock loyalists.  
Bed Bath & Beyond Price Chart Overview
Below is the Bed, Bath & Beyond stock daily price chart (at the time of writing).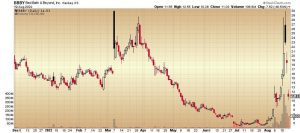 "The thing to note here is that it is unusual to see stocks like this trade in such a wide price range so quickly and with such volume. The stock shot upwards from 5 in late July to 30 by mid-August, before bottoming to 11 before the month even finished." – Craig Green, Financial Advisor & Managing Director at Green Associates.
"A quick price chart analysis lets us deduce that whoever buying Bed Bath and Beyond stocks must have been aware and monitoring the previous peak in early March followed by the subsequent lower high at just below 29 in late March. It is very likely that these traders had a big hand in the recent August action."
"The thing to note here is that it is unusual to see stocks like this trade in such a wide price range so quickly and with such volume."
What's going to happen to Bed Bath & Beyond in the future?
Bed Bath & Beyond stock has now lost more than half of its value since its recent peak. The roller coaster manoeuvres and huge trading interest echoes the 2021 meme stock trading frenzy, when many novice investors, lured by the hype and potential for enormous gains, made a staggering rush into stocks such as GameStop, AMC and BlackBerry. 
"This latest rollercoaster isn't likely to extinguish the meme stock trend" commented Susannah Streeter, senior investment and markets analyst, Hargreaves Lansdown. 
Are we forever doomed to the volatility and immense risk that has defined this new era of social media-fuelled investing? 
Keen to make solid investment decisions backed by actual research and hard data? Talk to our team on 1300 815 921 or at info@greenassociates.com.au 
At Green Associates, all of our advisers are fully licensed and listed on the ASIC Moneysmart Financial Adviser Register. Green Associates is committed to providing the best solutions for you and your wealth-creation journey.